Modding
Written by Admin
Monday, 20 December 2010 04:28
One of my co-workers is a hardcore gamer and power user.  Since we've met, he's become more and more interested in the hardware aspect of computing, and recently asked me to help build him a new system.
He previously had a Phenom II X4 940 based system with 4GB of memory and dual GTX 260 graphics cards.  Everything was run at stock speeds as he preferred to spend his time gaming as opposed to tweaking.  Although his system was no slouch, as any hardcore gamer knows; "the faster, the better"!  Plus, getting to know me has obviously had an influence on him (hehehe).  So we set upon building him a new rig from the ground up with the intent to have a very powerful gaming system with excellent performance today, and future expandability for tomorrow.
Written by MIAHALLEN
Wednesday, 20 October 2010 06:24
TiTON spent the last couple of weeks designing and building a unique and custom case for the Asus ROG competition...all the hard work paid off and TiTON will be taking CPT.Planet to compete at the next stage in this competition....a live overclocking competition at Blizzcon 2010 this week!  Well done TiTON....that case is amazing!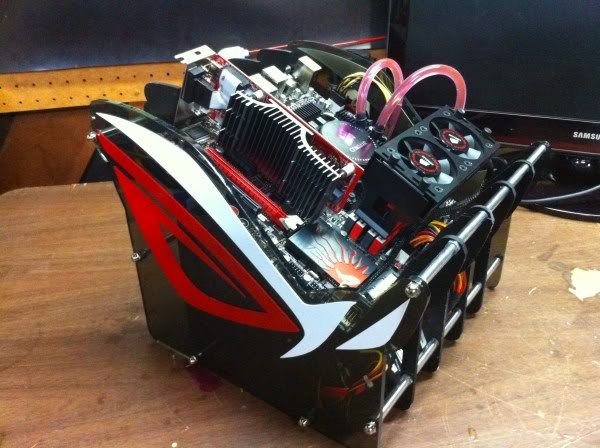 Written by Admin
Wednesday, 20 October 2010 05:59
This is the second part in the mini-ITX gaming series and was published last month when MIAHALLEN upgraded the components to the extreme, and stuffed the SG05 case full of the latest and greatest.  This was a slightly more advanced build, and took a few custom mods to achieve, not for the timid....but oh so satisfying.  Again, he competed a full performance review, and power consumption analysis.
MAX11L is currently ranked as the 10th most popular system at the eVGA MODS RIGS site, place your vote to help keep it there!
Last Updated on Wednesday, 20 October 2010 06:52
Written by Admin
Wednesday, 20 October 2010 05:48
We're a bit behind with updates to the site, so I'm posting a few older articles to bring us up to speed.  First off is a series on mini-ITX systems MIAHALLEN has been working on.  He started with a basic mini-ITX build in the miniature Silverstone SG05 case.  Not much modding, only air cooling and a pretty simple build that most users could probablu mimic with minimal trouble.  Miah completed a full performance review of what this mini machine is capable of, and even included a full accessment of power consumption being put on the barely adequate 300Wstock PSU.  He came away very impressed with the performance he was able to extract.  The article is a great read, and if you're in the market for a small gaming rig, you own it to yourself to check out the article.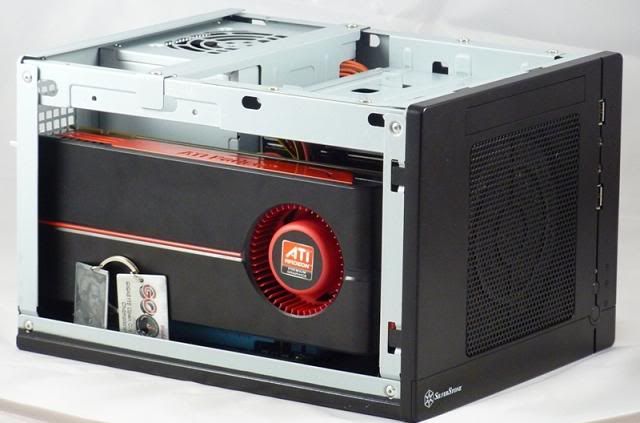 Last Updated on Wednesday, 20 October 2010 06:51
Written by Administrator
Monday, 28 December 2009 20:00
If any of you have a daughter, sister, girlfriend, wife, or any women in your life, then you have seen or familiar with Hello Kitty from Sanrio. Hello Kitty is a fictional cat character from Japan, which can be seen EVERYWHERE. TiTON builds a Hello Kitty Theme Silent HTPC from scratch. Click below to see the Work Log for this project.
Last Updated on Tuesday, 29 December 2009 09:25
Read more...
Written by Admin
Sunday, 26 July 2009 20:00
NVIDIA has partnered up with Zotac, CPU Magazine, and Modders-Inc to bring a VERY exciting case modding contest. This contest is open to the general public, and no modding skills are required. The public is tasked with desiging a mod around Nvidia's lastest ION Platform. Once all designs are submitted, NVIDIA and Modders-Inc will chose the top 30 designs. From those 30 designs, 5 professional modders will each pick a mod design / concept to bring to life. IRONMODS' very own TiTON has been selected by NVIDIA as one of the 5 professional modders to compete in this event. The 5 case mods built by the professional modders will go head-to-head to earn a coveted spot on the cover of CPU Magazine's November Issue. For more information, you can go here: NVIDIA ION Case mod Contest
Last Updated on Monday, 10 August 2009 10:31
Written by TiTON
Wednesday, 11 March 2009 18:50
As you all know, Milotic858's Command & Conquer GDI War Factory is currently featured in Maximum PC's March 2009 issue as Mod of The Month. The issue is not even off the news stands yet, and she has started on her next case modding project inspired by the anime series, Macross Frontier. The actual details of the case mod is still a mystery to the public, but we do know she has chosen to use Silverstone's newest and latest case called The Raven for this project. The Raven is a gorgeous case with sleek lines, which should compliment this project very well. From reading on the various modding forums on the net, modders and enthusiasts are all eager to see what Milotic858 has planned. I know that we are definitely in for a great journey with this project. We will keep everyone updated when new progess is posted on the case mod, so check back often.

Macross Frontier Thread at Bit-Tech: http://forums.bit-tech.net/showthread.php?t=165086

Wiki Entry on Macross Frontier: http://macross.anime.net/wiki/Macross_Frontier
Written by TiTON
Thursday, 19 February 2009 03:11
Pick up the latest issue of Maximum PC and check out Milotic858's GDI War Factory as the March Rig of the Month. The article includes interesting information and amazing pictures of this case mod. Available on stands now!
<<

Start

<

Prev

1

2 3 4 5 Next > End >>


Page 1 of 5